Talitha and I loved our big lead-up to Christmas so much that I've begun thinking about what family traditions we'll be starting for Lent this year. Fish on Fridays seems an easy one to weave into our lives.
I also figured it would be fun to get creative with a different style of fish each week. So, I'm revisiting a dish I haven't made in a while: Fish Creole.
As with most Caribbean cooking, everyone has their own way of making Fish Creole and this is simply mine. I cooked it for our Valentine's supper last Friday and we're both glad I did.
It's a deceptively simple dish, really. Flora Cuisine made it even easier as I could just brush it on to the fish without worrying about breaking up its flesh.
Normally you'd eat this with rice and fresh salad or maybe ground provisions. We had it with steamed vegetables for extra warmth with the storm threatening to blow Bristol away outside.
Fish Creole Recipe
Serves 2
Here's what you need:
2 slices white fish
1 tsp dried thyme
½ tsp dried oregano
½ small onion
20g cornflakes
½ tsp paprika
2 stalks celery
1 pepper
1 tin chopped tomatoes
sea salt
black pepper
1 tbsp Angostura bitters (you can replace this with rum or omit altogether)
Flora Cuisine
Here's what you do:
Pre-heat the oven at 200°C
In a bowl, season the fish with thyme, oregano, onion, a pinch of sea salt and black pepper to taste
Add two generous squirts of Flora Cuisine to the fish, brushing it to gently coat the fish
Coat the fish with cornflakes mixed with paprika
Lay out the fish and the bowls contents in a glass dish
Cover in chopped celery and pepper
Season chopped tomatoes with a pinch of salt and more black pepper to taste and pour on top of the vegetables and fish
Drizzle on Angostura bitters if using
Pop into the oven for 20-25 minutes
Smell it, eat it and lick your plate after when no one's looking.
This post was brought to you by Flora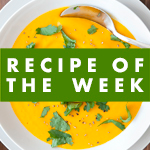 ---